「Currently
」

Ami||Kuuru||Moon||Tiwnnie||Mimai||Ember||Kuukie||
Kuukaburra||Moobpai||Tiwnpai||Slave-chan
·Age· 14
·Tools· Wacom Bamboo Capture||Paint Tool SAI||GIMP||Mechanical pencil
Second account:

---
---

Hey there! It's nice to meet you kids~ I'm Am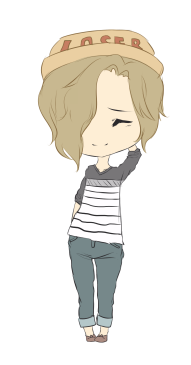 i Kuuru, but feel free to call me anything you like! I'm just some kid who likes to draw and gets art block too often.

Please bear with me and my ever changing art style-- ;;; I appreciate any and all critiques or helpful tips!
Feel free to chat with me anytime! Usually I like everyone, unless you're rude to me or my friends, then that's not okay

But that doesn't happen often, so don't be afraid to talk to me! <3
Hope you enjoy your stay on my profile!


STAY KUURU GUYS